Slipper Soles (for felted slippers etc.)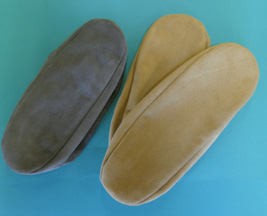 Full soles which come up the sides of slippers about 3/4" sides. These add both traction and durability to your slippers. Made in soft genuine suede and punched for easy sewing.
Two piece slipper bottoms for styles like AC-14 (Ballerina Slippers), where full soles are not appropriate. Can be used with any style slipper in place of full soles. Same suede as our slipper soles in either charcoal or camel. Punched for easy sewing and packaged with sock yarn for stitching to your slippers
Please note that these are inch sizes not shoe sizes. Measure the outside of your finished slippers to choose the correct size. Sizes are in INCHES !!!
| | |
| --- | --- |
| Displaying 1 to 5 (of 5 products) | Result Pages: 1 |