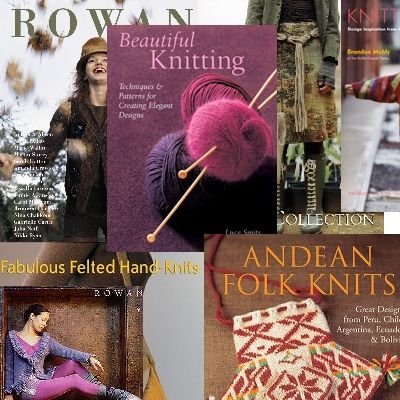 We believe that inspiration is a necessity for all who work with fiber of all types. We have handpicked the following books to help inspire you to either try new ways to work with fiber, create new designs or to simply fall in love with a new project. Our personal fiber library has provided us with endless hours of idea building and design planning. In many ways, it serves as our inspiration for new fiber choices or ways to put items together. We have built our love of fiber as our library has grown - knitting and crocheting for over 35 years, and weaving, spinning and quilting during the past seven years. Hand-dying is our new learning curve and our library is building with reference materials, patterns and design tips.
We are hoping you will find some time to browse through the collection of books that we have chosen to have in our store. We will provide you with additional pictures of the books internals when possible. Also, we have chosen to price many of the books at below the normal retail value as we feel as though the cost of the books should not be an inhibitor when selecting your sources for inspiration.
Please let us know if you have a favorite book that you think others would enjoy; and write a review when you receive a book you like - others will want to share in your inspirations.